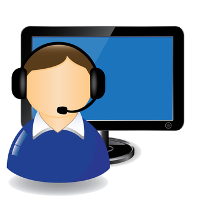 Proudly serving Monroe since 1994
XFER is your trusted local computer network support and services company in the Monroe, MI area. Our experts will work with your organization to ensure that your computer network is secure, stable, and reliable for your employees and day to day operations.
Schedule for a FREE Consultation
---
IT Support you can trust.
In today's data-driven world, being connected to an internal network or the Internet has never been more important to day-to-day business operations. A reliable Internet connection is critical for internal and external communication, especially now when more and more organizations are moving toward having employees work from home. Businesses need to keep up with the demand of fast, secure, and reliable network connections to maintain optimal productivity.
Connecting devices like computers, mobile devices, printers, and other peripherals are just part of the mission, maintaining a network to its peak performance is another challenge altogether. Network reliability is the foundation of keeping your team's productivity and efficiency high. Downtime is a costly and disruptive business obstacle that can easily be prevented by proper computer network support.
Computer network expertise you can rely on.
Since 1994, we've been the trusted computer network company for many businesses in a variety of verticals. Our computer network engineering team has the expertise to ensure that your network connection runs smoothly 24x7. We use industry-standard technologies to configure, implement rules, and troubleshoot your network infrastructure remotely. Our team can give you a report of your network activities including downtime, network usage, upgrades and more.
Our strategic partnerships with some of the world-leading suppliers of network peripherals allows us to sell, install, and support businesses of all sizes. This also expands our horizon to deliver computer network services to different industries such as business process, financial, and healthcare institutions. A XFER plan is a scalable, full-service, computer network support plan that proactively manages your business' evolving needs. All of your computer network needs are covered.
---
Our computer network services include:
Real-time 24x7x365 monitoring
Reliability and performance management
Proactive software/ firmware maintenance
Security and patch management
Troubleshooting, resolution tracking and documentation
User and group management
Executive Summary and Status reports
---
XFER has superior computer network support plans that are designed to make the entire network management of your IT hassle-free.
Please contact us today for a free in-depth technology assessment and proposal to get started.