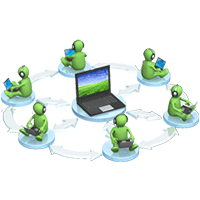 VoIP Support & Consulting Services | Brighton, MI
We provide VoIP support and consulting services to companies in Brighton, MI. Our VoIP solutions are created on a case by case basis in order to support your unique business needs.
Our hands-on experience with VoIP phones allows us to design and implement the best VoIP solutions for our customers every time.
VoIP phone solutions are utilized to increase communication efficiency across enterprise organizations and small businesses alike. Adoption rates of Ethernet services in the United States are soaring, driving revenue from $5.2 billion in 2012 to $9.2 billion in 2016, according to new research from the International Data Corporation. This technology trend is allowing our customers to increase bandwidth, improve reliability, and be more agile without breaking the bank.
Why Deploy A VoIP Solution?
VoIP phones provide several advantages over conventional phone systems, including:
Cost reduction:

VoIP phones are cheaper to use than traditional phones and don't charge for long-distance calls.

Convenience:

VoIP phones can be used anywhere in the world where ther

e's an internet connection, without extra charges or unsteady connections. VoIP systems are even accessible through email, which means they're available for use while traveling.

Flexibility:

Traditional phones can be converted into VoIP phones using a comp

uter and a VoIP converter, allowing the user to place and receive calls from their VoIP number without purchasing expensive or bulky equipment.

Scalability:

No matter where associates are located, it's easy to integrate their VoIP systems into a connected

solution and add extra phones and features as an organization expands.
The Benefits Of VoIP Consulting Services
With hundreds of VoIP service providers and plans available, it's important for organizations to choose the provider and plan that best suits your business needs and environment. Our professional VoIP consultants can provide several options for cost-effective and customizable VoIP solutions and platforms based on your operating and technology infrastructure.
Partnering with the VoIP consultants at XFER Communications can also save time and eliminate frustration deploying and configuring your organization's VoIP solution. There are numerous subscriptions, features, integrations, and configuration settings to consider before your team selects a VoIP provider.
Having our VoIP support specialists and consultants as your partner can help provide transparency, expedite the process, and offer insights based on your business.
XFER Communications Delivers Comprehensive VoIP Solutions
XFER Communications can help your business implement a VoIP solution specific to your company's needs. Our experts help your team solve its communication challenges with a robust business phone system. Reach out to our team today to learn more about our VoIP business phone support and solutions!