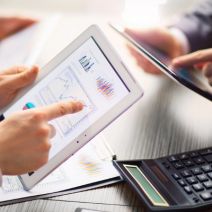 Cutting corners comes with the territory of doing business. While it makes sense to be conservative with items like breakroom amenities and super-soft toilet paper, trying to save money in regards to your employee's technology may actually turn out to cost more than it saves. For business owners trying to save money, the latest technology solutions are worth the extra expense.
Deep down, business owners are attuned to this fact; yet, many choose to cling to outdated technology that prevents their employees from reaching their full potential. Here are three common reasons behind this mindset.
Shockingly-High Price Tags
It should come as no surprise that new technology can be expensive. It's always been like this. Do you remember shelling out a few thousand dollars for a fully loaded desktop back in the 90s, and 2-to-3 times that amount in the 80s? Granted, computers today are much more affordable than days of yesteryear, but buying new equipment for your office can still be a costly endeavor that has a stigma of being super expensive like it was back in the day.
What's the remedy for new technology sticker shock? The key is understanding just how much money the technology will save you in the long run. This requires taking an objective look at the product's return on investment. Doing this can be as easy as having a conversation with XFER.
Attempting to Find Value In Outdated Equipment
In the case of a well-known technologies like cars, it pays to be cheap. If you can stand being associated with an car that's held together with duct tape and prayer, then you're bank account is better off because you don't have monthly payments. While this mindset pays off when it comes to owning a vehicle, it doesn't work the same way when it comes to business technology. In fact, a business owner that tries to make outdated technology work beyond its lifespan will actually end up losing money due to the machine underperforming, as well as missing out on the advancements in productivity offered by the latest solutions.
Insufficient Funds in the Budget for New Technology
Running a business is a pricey endeavor. Sometimes, money is tight and major purchases like new technology must be put off. However, don't immediately disqualify yourself from purchasing the technology that your business needs just because you're short on capital. This idea may sound counterintuitive, but you can actually purchase certain technologies in order to free up funds so you can buy your staff the technology they need.
For example, when it comes time to purchase a new server unit for your data hosting needs, if you instead go with cloud computing, you will be able to turn a budgeted capital expense (like buying a new server unit), and turning it into an operating expense (a subscription to a cloud service). Therefore, the money that was previously budgeted towards buying a new server unit can now be allocated to replace the problem-prone workstations in your office. A savvy move like this will set you on the path to profitability, thanks to your team no longer being hindered by the use of outdated equipment.
There's really no excuse for your company to be stuck using outdated equipment. In the long run, you're going to lose way more money than what you would save by putting off an improved solution. Here are just a few more examples of how this works.
If your team is forced to tolerate outdated technology, they will miss out on the latest solutions designed to improve efficiency. To make matters worse, your competitor is more than likely taking advantage of the technology that you're not.
Downtime quickly adds up. Older equipment is prone to crashing, unnecessarily long load times, and performance issues. A few minutes here and there lost to downtime adds up to several lost working days at the end of the year.
Working technology improves office morale. Unreliable technology causes workers to flip out when data is lost and become frustrated at performance issues. Plus, it communicates to them that you care very little about their productivity, so why should they?
Want to save money without purchasing new technology? In a business-technology scenario like this, you really can't have IT both ways. To have a conversation about what it takes to equip your workers with the latest and most efficient solutions, call us at 734-927-6666 / 800-438-9337.