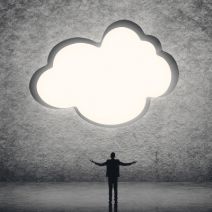 Over the past several years, cloud computing has really taken off. Whether it's for personal or business use, the market for cloud computing continues to grow. For the growing small or medium-sized business, the benefits of instituting some form of cloud computing are substantial. With cloud computing, you're able to reduce the large capital outlays that typically come with new technology purchases, while improving access to your data; significantly improving mobility.
Cloud Options
There are three major types of cloud computing your organization can consider. They are:
Platform as a Service - Platform as a Service (PaaS) delivers a platform for organizations to easily develop, run, and manage web-based applications. It allows developers the dynamic development platform they need without the costs and headache of purchasing new hardware.
Infrastructure as a Service - Infrastructure as a Service (IaaS) makes available complete virtualized computing resources. This centralized computing structure can be hosted in-house or in an off-site data center, depending on how much control you want over the management of your IT.
Software as a Service - Software as a Service (SaaS) is a software delivery method that provides users the software titles they need, including CRM, security, and productivity applications. This application delivery allows you to get the programs you need to forge your business ahead at an affordable monthly rate.
Secure Cloud Computing
Since all cloud platforms can be hosted internally or in an external data center, there are security features that can provide organizations peace of mind when considering implementing a cloud solution. In fact, SaaS offerings have seen incredible increases in security in recent times, making them effective cloud solutions, so long as the server is maintained and managed properly. A server that's across the country can potentially be as secure as your own in-house server, so long as the same protocol is being observed.
It's thanks to this versatility that the cloud continues to grow in both popularity and scope as a practical business solution. Secure clouds are helping businesses all over the world better leverage their assets at more affordable prices than ever before. There are dozens of reputable vendors out there that are just as secure, if not more so, than any server you might host in-house.
Despite this clear advantage, you might be one of the many businesses who need to have more control over their data than others who want to take a more hands-off approach. For these types of businesses, there are hybrid cloud solutions that combine the practicality of the public cloud with the security of a private cloud. It's important to remember that controlling security permissions, hosting your own data, and deploying it to those who need it is a lot of responsibility for the average business owner. It might seem like the only way to keep your data truly safe, but we assure you that cloud solutions are more than enough to keep your business's data secure.
This is because XFER provides secure and powerful cloud platforms that are designed to meet the individual needs of your business. You can have access to any cloud resources you need for your day-to-day operations, all while keeping your IT costs at an all-time low. Give us a call at 734-927-6666 / 800-438-9337 today to learn more.