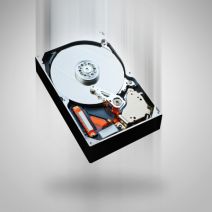 Technology is vital to the success of any business, but even the most common issue can prevent users from accomplishing their day-to-day goals. Even technology that's known to be reliable can fail at any given time. This is especially true for the notorious hard disk drive, which is required for the average workstation to function properly. In order to get the most out of your technology, and to avoid data loss, look for signs of hardware failure before the deed is done.
What's more, technology is expensive and costly to replace. This is the primary reason that issues in your technology need to be addressed before they become an even bigger, more expensive problem. Here are three of the more common issues that your hard disk drive might face right before it croaks.
Your PC Is Slower than Usual
There are a number of reasons that your computer could be slowing down, but one of the primary reasons is that there's something wrong inside of it. Your workstations shouldn't be lagging. If they are, it's important to resolve any issues before they put a damper on workplace productivity. If the system keeps freezing up, you know that there's something wrong with the hardware that absolutely must be addressed.
The Blue Screen of Death
Obviously, continuous computer crashes aren't a good sign. You might know this as the "blue screen of death," which usually signals that a computer has finally met its maker, or at the very least, will do so soon (probably at the most inopportune time). One way to determine if the cause is the hard drive malfunctioning is by attempting to access files on the hard drive. If they're inaccessible, you've probably found your issue. Be sure to call XFER to figure out a solution to your predicament before attempting too complicated a procedure on your own, or else risk making the problem worse.
The PC Makes Strange Sounds
When we say strange sounds, we don't mean older workstations sounding like airplanes taking off. We're talking about sounds that are out of the ordinary, like clicking or grinding noises. Like any metal piece of machinery, this probably isn't a good sign. Be aware of any strange sounds coming from your PC, and if you hear something fishy, contact the trusted IT technicians at XFER to see what the problem is.
The Ideal IT Solution
Sure, you can spend time monitoring your technology's every move. Nobody's going to stop you; but is that the best use of your time? Absolutely not. You, as the business owner, have plenty of responsibilities as is, and you definitely don't have time to keep track of your business's technology. With our proactive managed services, we can prevent IT issues that could be crippling later on.
Worrying about your old technology breaking down when you least expect it can negatively affect productivity, especially when you're trying to stay competitive. Let XFER assist you with remote maintenance and technology management services. You can get started today by calling 734-927-6666 / 800-438-9337.