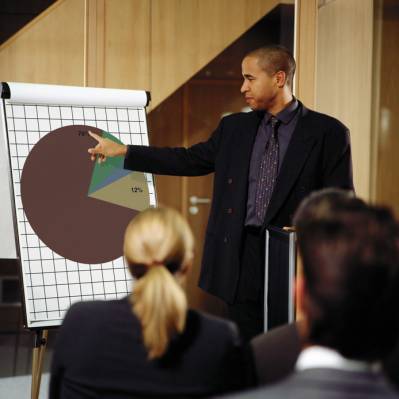 At some point or another you will be asked to present information to a crowd of people. Whether you have to give a presentation about how you can best profit from a bake sale for your local PTA or you're presenting a sales pitch to potential investors, vendors, or clients; using advances in presentation technology and methodology to your advantage can help you make a strong first impression and more importantly, a lasting one. Below are some presentation services that can be used to enhance the content of your demonstration.
Prezi
Prezi is a cloud-based solution for creating vibrant presentations. It's most identifiable feature is the ability to pan and zoom in and out of presentation media to allow the presenter a dynamic medium in which to present information. Prezi is developed using Adobe Flash and Adobe AIR which allows for compatibility with most computers and browsers. The Prezi zooming user interface (ZUI) can be accessed online for free. Prezi also offers pay-per-month packages that offer more in-depth features. The Prezi Pro package allows a user to use the Prezi Desktop feature which gives them the ability to edit their Prezi presentation offline. Prezi could be the solution if you are looking to keep your audience involved and intrigued.
PechaKucha, Lightning talk, and Ignite
PechaKucha, Lightning talk, and Ignite are presentation methods where a presenter displays a set number of slides that advance automatically while the speaker dictates an overview of those slides try to encompass. The main benefit of this presentation format is that it's unconventional pacing allows the presenter to go over a lot of information quickly. In their formal structure, many different speakers speak in one night. If you are using it for business purposes, following the presentation with a question and answer session would be a way for the audience to completely
understand and become involved in the presentation itself. It would give you a forum to cement your points portrayed in your presentation without taking up hours of their time and risk boredom and the backlash that comes with it.
Poll Everywhere
For those of you that would like to incorporate some audience participation into your presentation one resource that is available is one offered called Poll Everywhere. Poll Everywhere is another web-based service that replaces expensive audience response software. It allows audience members to give feedback by answering poll questions using their mobile devices. Poll Everywhere uses mobile social media accounts or text messaging to allow users to answer the poll question making it possible to have a completely interactive presentation. Using a freemium pricing model, Poll Everyone allows users to hold polls to up to 40 people for free. This can be a dynamic tool to use in any presentation, large or small.
For would-be presenters everywhere, considering solutions such as these will go a long way toward keeping your audience attentive and engaged. If you are in the Michigan area and would like more information about the technological advances that are being made in business software or you have questions about devices that will make your day-to-day more effective, call XFER at 734-927-6666 / 800-438-9337