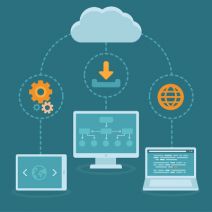 It's been known for years that virtualizing your server is a great strategy for companies that rely on their technology. It allows them to make efficient use of their computing resources as well as limit hardware and utility costs. Many business owners are not privy to virtualized desktop options, or how to properly use desktop virtualization to improve their business.
There are two methods of desktop virtualization that can present a beneficial situation for your business. They are Desktop as a Service (DaaS) and Virtual Desktop Infrastructure (VDI).
Virtual Desktop Infrastructure - A virtual desktop infrastructure is the use of a single server to take advantage of multiple separate desktop environments. This provides your staff with shared computing environments that deliver software to users as they are called. This includes operating systems and applications. Additionally, administrators of these systems have great control over the system's delivery, as they can assign a specific amount of CPU and RAM usage according to the user. Many times a dedicated VDI demands significant attention from IT personnel, limiting its effectiveness for organizations that don't have dedicated IT personnel.
Desktop as a Service - With Desktop as a Service, the virtualized computing environments are completely hosted in an outside data center, eliminating the need for dedicated administration. This platform is designed for organizations that either don't have the budget to constantly oversee these systems, or organizations that want to eliminate their role in the administration of their computing environments completely.
Which Is the Better Solution?
Both of these solutions provide organizations the flexibility they need to cut IT costs and centralize their IT infrastructure. By eliminating the need to take on new hardware costs, you can use your capital toward other facets of your business. The best solution for your organization depends directly on your needs. While both solutions essentially accomplish the same thing (deliver applications to end-users via thin client technology), you will have to consider if you absolutely require administrative control over the computing infrastructure you are virtualizing.
For many Michigan small and medium-sized businesses, outsourcing IT management to XFER can be an extremely valuable avenue to go down, due in large part to the reliability of our professional IT technicians. They have the ability to proactively solve many of the pain points that businesses like yours experience, while providing a thoughtful consulting service to help you weigh your crucial technology decisions.
To drive your business forward, consider implementing a virtualized desktop environment. Call us at 734-927-6666 / 800-438-9337 today to schedule your free consultation.